Featured Art
Artist in Residency Program
Join us at the Surf Shack to view our rotating Artist in Residency Program​. This quarterly rotation of local artists features photography, paining, and local craft designs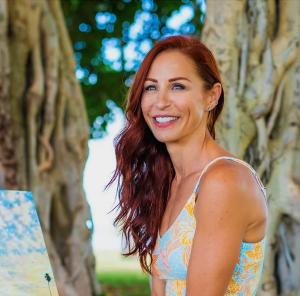 illuminated ART Hawaii™
Danielle Rush is an Emmy-nominated and Local 706 Guild Award Winning Film and Television Makeup Artist known for her artistic and eye-catching makeup looks in Hollywood. Inspired by her move to picturesque Oahu, Rush decided it was time for a change so she could spend more time with her family and less time working on set. After having actual dreams of painting with makeup, Rush began to combine her 20-year makeup career, love for photography and passion for painting to create illuminated ART™️ Rush's signature illumination process begins by printing her photos on canvas. She then mixes all of her own paints using makeup and other materials. Then she applies it to her photos, sometimes covering the entire piece or sometimes simply to the highlights and shadows, to add texture, motion and create a three-dimensional effect. Lighting is incredibly important to "illuminate" her artwork but the beauty lies in the element of surprise every time you look at each piece. You will continually see something new as the light continues to change and bring the photos to life!
Danielle loves collaborating with other photographers and working on commissioned pieces to bring other peoples favorite moments to life. She can illuminate any photo in any size, the sky's the limit- a beautiful landscape, wedding memories, your favorite pet or family photo! She hopes to create a feeling of being present in the moment, and sharing her joy and Aloha with the world!
Each piece of illuminated ART is completely one of a kind and is accompanied with a Certificate of Authenticity, ensuring that the value of each piece with increase over time! Each illuminated ART comes framed and with a cleaning tool, to guarantee the ultimate sparkle and shine forever.