If you already planned a day trip to Haleiwa, don't overlook the quiet Anahulu River, best explored in kayak or stand-up paddle.
The Anahulu River feeds into Waimea Bay from the Koolau Range, and the mix of fresh and salt water creates brackish hues. It's a favorable kayak trip in Oahu for its solitude and frequent turtle sightings.
Visitors typically start at the mouth of the river near the Haleiwa Harbor and travel upstream. The river's current is so slight that it makes for an effortless outing. A journey to the river's end takes 45 minutes to an hour, where it simply becomes a stream. There, paddlers can turn right back around and follow the gentle current back to Waimea Bay.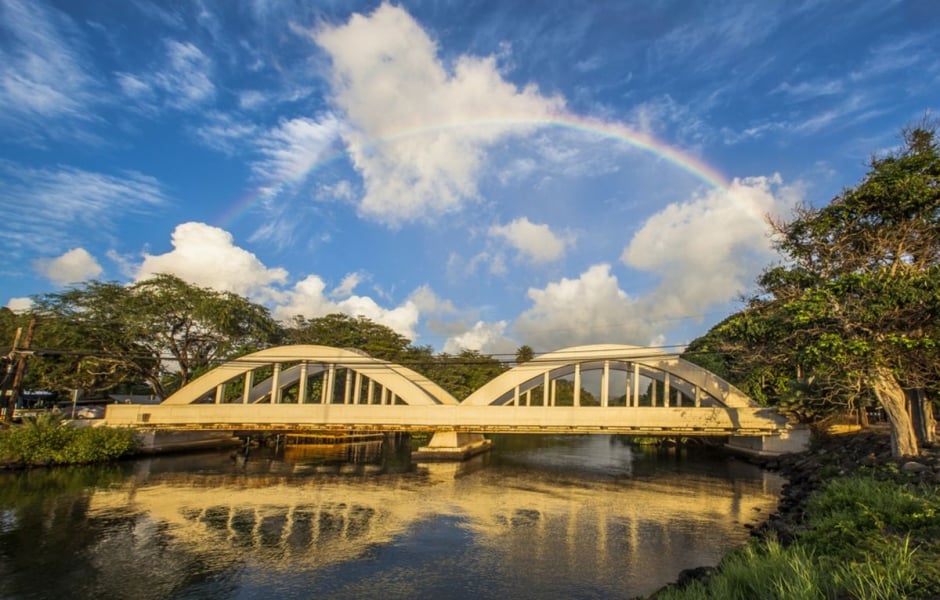 The trip is perfect for kayaking or stand-up paddleboard novices. The pleasant Anahulu is also ideal if you're seeking time in nature that doesn't take up the entire day.
Aside from turtles, paddlers will make their way under Waimea's iconic Rainbow Bridge at the trip's onset and pass houses along the way. The peaceful waterway becomes especially quiet and lush toward the last leg of the trip.
It's important to remember that if you come within close proximity of a turtle, respect their space and be a kind observer. Do not feed or touch wildlife!
We recommend renting a kayak through The Watercraft Connection, a family-owned business located on the Haleiwa Harbor, to the left of the Rainbow Bridge. See map. In the harbor you'll find a handful of kayak and paddle board rental agencies which operate on a first-come, first-served basis.
Traveling to the North Shore from Waikiki
There are a few ways to reach the North Shore, and because of occasional heavy traffic due to tourism, public transportation is a viable option. We recommend you check out tours or car rental accommodations with Pleasant Holidays, located on the third floor of The Twin Fin Hotel. You can reach them at [email protected]com
Public transportation
Oahu's public transportation The Bus reaches the North Shore in 1.5 to 2 hours.
The #52 bus departs Ala Moana Center and travels through the center of the island, ending in Haleiwa. It takes approximately 1.5 hours to travel from Ala Moana Center to Haleiwa.
The #55 bus also departs from the Ala Moana Center, but travels along the east coast, ending in Haleiwa. This route takes roughly 2 hours. For info on routes, fares and schedules, visit thebus.org.
Car
If traveling you're by car from Waikiki, get on H-1 West, then transfer to H-2 North (via exit 8A). From H-2, take exit 8 to Wahiawa and continue to Kamehameha Highway (99), which takes you right into Haleiwa. The trip takes just over an hour without traffic.
Tour bus
For an activity tour, consider the North Shore Surf Bus, which departs from Waikiki. The Surf Bus takes guests to beaches, to rent kayaks, visit shops, and more. Book your tour, which you can customize to your preferences. Read more at northshoresurfbus.com
Booking your hotel
The Twin Fin Hotel is your best choice in Waikiki! Centrally-located, the hotel offers stunning views of Diamond Head and Kuhio Beach with awesome amenities you won't find elsewhere. Check out exclusive offers on our website and make sure to book a room with Coconut Club Access for the full experience. We hope to see you soon!