With some of the best wave breaks on the planet, you're seriously missing out if you're not trying your best to hang ten in Waikiki's surf. Luckily, Waikiki surfboard rentals are aplenty, so you'll be catching the perfect wave in no time. Here are the best places to rent a surfboard in Waikiki, as well as wetsuits, leashes, and every other piece of gear you could need (we answer some frequently asked questions too!).
Although we strive to provide the most current information, surf shops mentioned may close at any time or operate with limited services or reduced hours. We recommend checking individual websites for operating hours, updates, and social distancing measures before visiting.
Ways to Enjoy Hawai'i's Surf Culture
What size surfboard should I rent?
Experts recommend beginners stick with a longboard that is roughly 3-feet longer than your height. Intermediates and advanced surfers can opt for a funboard (6 to 8-feet long board which has a rounder/wider outline than shortboards) that's 12 to 24″ taller than yourself, shortboard (5 to 7-feet long with an upturned tip and two to four fins) that's 2 to 6" taller than yourself, or a fish board (a short, wide, flat, and thicker-than normal board with a fish-like swallow tail) that's 2 to 4" shorter than your shortboard.
How much does it cost to rent a surfboard in Waikiki?
Prices vary, but you'll find Hawai'i surfboard rentals as cheap as $7 an hour, $20 a day, and $100 a week. Premium and pro boards will be more expensive. We list all pricing below! Please note that all prices are as of October 2021, and are subject to change without notice.
Can you rent a longboard in Waikiki?
Absolutely! As well as shortboards, mid-lengths, fish boards, hybrids (fish/high performance shortboards), and more. Read on to find out where.
Does Waikiki have good surf?
Yes! While the huge seasonal swells of the North Shore are legendary, Waikiki's surf is always consistent. Waikiki Beach is considered one of Hawai'i's best beginner surf spots, and makes for an excellent place to practice the basics. That being said, there are a multitude of surf spots within Waikiki's two-mile stretch that will appeal to surfers of all skill levels. Shortboarders and longboarders love Waikiki's Rockpiles, Kaiser's, Pops, and Queen's Surf break.
Quality Surfboards
We love Quality Surfboards for it's huge selection of boards for all levels – and they let you swap out your selection as many times as you want! Pick out a rental board you can rip on, from shortboards (fish, hybrid, and high performance) to mid-length (single fins, gliders, and alternative shapes) and longboards (single fin, 2+1 high performance, and logs). Ride boards from the best shapers on the planet, like Lost Not Found, Tudor, Umeda, Richardson, Yater, and so many more.
$20 for the day, $100 for the week. Leash, fins, wax, and roof straps are also included. Open daily, 8 a.m. – 8 p.m., 1860 Ala Moana Blvd. Suite 104
Big Wave Dave
It's never too late to start making the most of Waikiki Beach and there's no time like the present. Big Wave Dave can help you with all the things you need to get out there. You'll find over 100 surfboards at Big Wave Dave, from soft tops to hard tops, and longboards to shortboards.
$20 for 2 hours, $40 for the day (keep in mind Big Wave Dave's "day" ends at 2:30 p.m.!), $80 for 2 days, $110 for the weekend (3 days), $165 for the week. Rash guard rentals are only $5 extra. Surf lockers are free with any rental of 2 days or more. Open daily, 6 a.m. – 2:30 p.m., 226 Lewers St. #154
Ohana Surf Project
We are big fans of Ohana Surf Project for two reasons. Not only do they make renting a breeze with their online booking system, but they also provide drop-off and pick-up service right to you at The Twin Fin Hotel! Their surf team is happy to offer basic instruction on your board selection.
$200 for a performance board weekly rental. If you're looking to rent for a period of more or less than one week, give them a call at 808-599-7873 to find out more options and available boards. Rental periods vary from a few hours up to 10 days. Open daily, 8:30 a.m. – 5:30 p.m., 2699 Kalakaua Ave.
Star Beach Boys
The family-run business has been surviving Hawai'i for over 40 years! Book online and choose from Star Beach Boy's selection of 8 to 10-feet and 11 to 12-feet longboards (and several dozen more options).
$7 for 1 hour, $10 for 2 hours, $15 for 3 hours, $20 for 5 hours, $30 for 8 hours. Open daily, 7 a.m. – 6 p.m., 2450 Koa Ave.
Moku Hawai'i
A Waikiki staple since 1985, Moku is the place to go if you want to hit the waves early – they open at 6 a.m.! They are also very kid-friendly. You're likely to spot keikis representing Moku's gear in various surf contests throughout the year.
$10 for 1-2 hours, $15 for 3-4 hours. Open daily, 6 a.m. – 8 p.m., 2446 Koa Ave.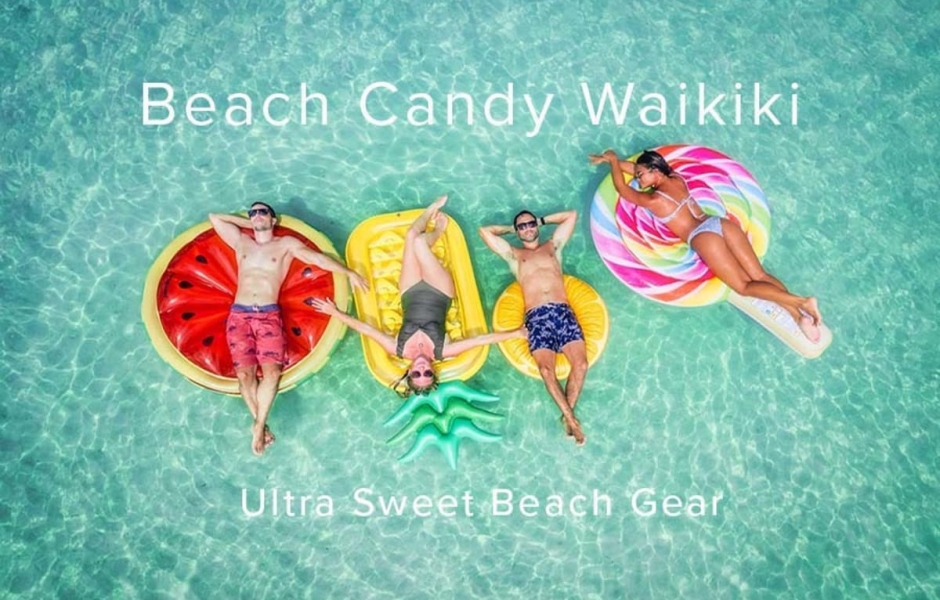 Elevate your surfing experience with sweet accessories and gear to enjoy your day on the water with Beach Candy Waikiki. Guests of The Twin Fin Hotel earn daily Beach Candy Credits to be redeemed for a wide selection of rentals including surfboards, paddle boards, beach accessories, and more.
If you haven't yet booked your hotel stay, consider The Twin Fin Hotel, centrally-located in Waikiki, the center of all surfing activity on O'ahu. With sweeping views of Kuhio Beach, it's just walking distance from the best surfboard rentals in Waikiki and offers excellent on-site amenities, like complimentary surfboard storage for guests!
Book a room with an oceanfront view to enjoy stunning sunsets or of Diamond Head, an ancient volcanic crater and iconic symbol of O'ahu. Check out exclusive offers only available on our website. We hope to see you soon!