Waikiki is one of the most scenic destinations in the world and its weddings are known for being just as special. Planning to say 'I do' in paradise? Let us help with the details. From finding your dream Waikiki wedding venue to unforgettable wedding catering your guests will love, here's everything you need to know about having a Waikiki Beach wedding.
Our Location
Situated on the south shore of Honolulu, Waikiki is only 15 minutes from downtown and nine miles from Daniel K. Inouye International Airport. Local and out-of-town wedding guests alike will enjoy exploring Waikiki before and after wedding festivities – and the neighborhood offers no shortage of activities. Popular spots for visitors include the two-mile sandy beach, Kalakaua Avenue, Diamond Head, Waikiki Zoo, and the Waikiki Aquarium. Check out our Blog to stay up-to-date with Honolulu culture, local cuisine, nightlife, outdoor activities, and shopping.
Set the Date
Choosing the date to tie the knot is one of the first important decisions you'll have to make in the planning process. Luckily, Waikiki's weather is championed for its year-round, sun-soaked consistency. Daytime summer temperatures (May to October) tend to hang around 85 degrees, while winter temps (November to April) average at 78 degrees, with nights being about 10 degrees cooler. There are higher levels of rainfall in the winter, although showers are usually short-lived. Whether you're dreaming of a pleasant winter wedding or a hot weather summer bash, decide which wedding season is right for you.
Make it Legal
While the wedding celebration may be the most memorable, signing the dotted line to become a legally married couple is the most important. Stop by the Health Department Building in Honolulu (Room 101, 1250 Punchbowl St.) with your future spouse and identification to apply for a marriage license – no appointment needed. You'll be issued your license on the same day. Visit Hawaii.gov for more information, like costs, wedding officiant requirements, name change information, and more.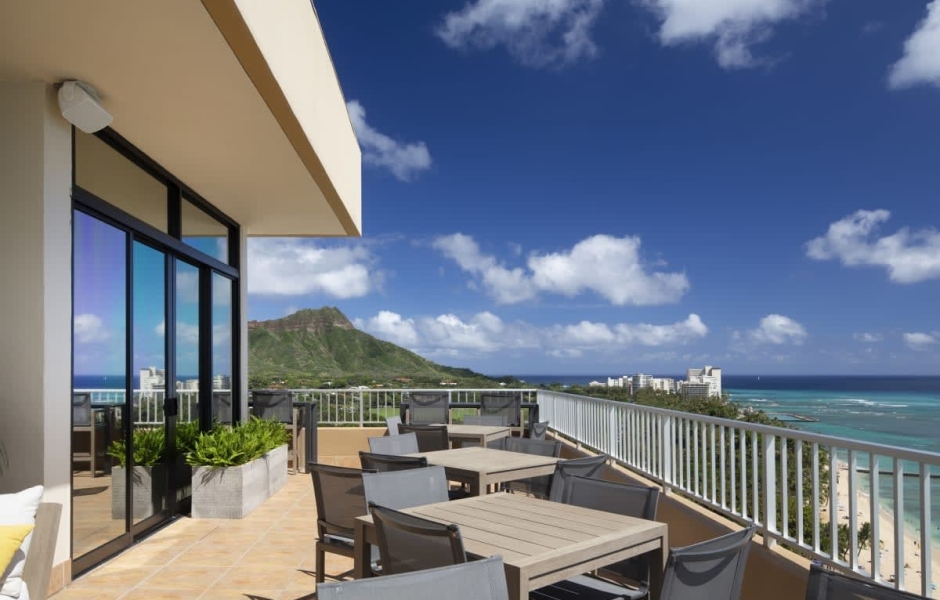 Find the Perfect Waikiki Wedding Venue
Prominently located on the Penthouse Level of The Twin Fin Hotel, 21-stories high above Kalakaua Avenue, the exclusive Coconut Club overlooks the world-famous Waikiki Beach and the ancient Diamond Head volcanic crater. Make your vision come to life with over 2,500 sq. ft. of private indoor and outdoor event space, designed to comfortably accommodate up to 75 guests.
Make Your Day Delicious with Waikiki Wedding Catering
The Coconut Club's caterer will help you create the perfect menu depending on your budget, preferences, and wedding theme and feel. We have delectable catering menus centered around the island's diverse flavors, with dishes like ahi poke wonton tacos, Goose Point oysters, scallop and shrimp ceviche, and smoked ora king salmon terrine. View our complete catering menus for tasty dishes your guests will love. Custom menus are available upon request.
Create your Waikiki Hotel Wedding Checklist
With the date set and your venue, caterer, and team booked, it's time to mail out wedding invitations and design the perfect Waikiki wedding reception. Create a checklist with items like attire, rings, hair and makeup professionals, a photographer and videographer, cake baker, florist, and DJ. We found an excellent checklist for you, here.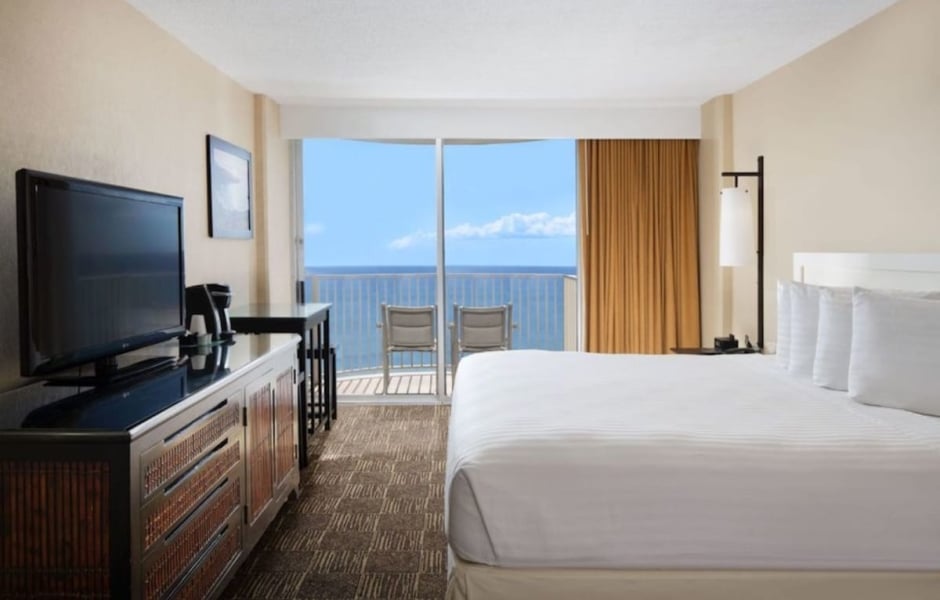 Book a Waikiki Hotel Block for your Wedding Guests
The Twin Fin Hotel is the ideal destination for your wedding party and guests. Guests will love our rooms with ocean views, pool, fitness center, on-site dining options, and Tiki's Grill & Bar overlooking Kalakaua Avenue. We have 645 comfortable guest rooms and spacious suites with special rates available for booking room blocks of 10 or more.
Our special events staff at the The Twin Fin Hotel looks forward to working with you to make your wedding dreams come true. Visit our Events page to view our event spaces and catering menus. Fill out our Request for Proposal form to find out how The Twin Fin Hotel can make your event shine.