The diversity of O'ahu's shores – from family-friendly spots to beaches with some of the biggest swells in the world – helps draw all types of vacationers. Many of these pristine beauties grace lists of the best beaches in the world, and with more than 125 beaches on O'ahu to choose from, you're sure to find the perfect stretch of coast just for you. So make digging your toes into sugar-white sand a reality. Here are the best beaches in O'ahu.
Waikiki Beach at Kuhio Beach
The busy beach in Waikiki is home to one of the most photographed spots in town – the 9-foot bronze Duke Kahanamoku statue. Known for its back-to-back concrete walls stretching 40 yards into the ocean, Kuhio Beach's enclosed swimming area creates a calm swimming pool with a sandy sea floor. Please refrain from climbing on the low sea walls to prevent injury, they are covered with algae and are quite slippery!
Kuhio Beach couldn't be located any closer to the Twin Fin Hotel – it's our front yard, so to say. Guests can enjoy a day at the beach and stunning sunsets every evening all just steps away from their rooms.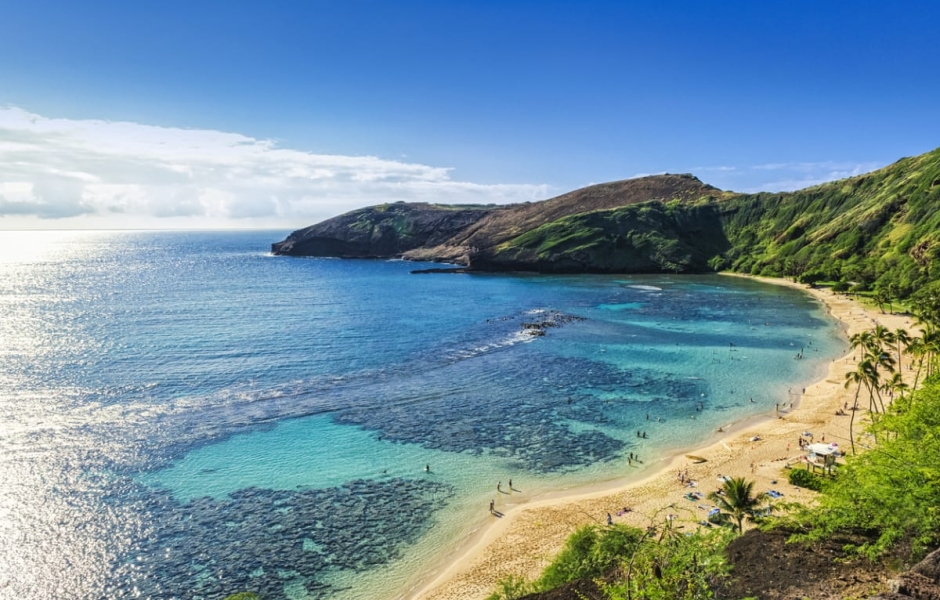 Hanauma Bay
The pristine waters, coral heads, and colorful marine life of Hanauma Bay Nature Reserve make it a desirable spot to snorkel in Honolulu. Its marine ecosystem is one of the most visited destinations in all of O'ahu, drawing roughly 3,000 visitors a day. The general rule of Hanauma is look but don't touch. This way, Hanauma can be enjoyed for generations to come. Green turtles inhabit the waters at Hanauma Bay, but don't get too close to these endangered animals! (Note: touching sea turtles in Hawaii is illegal). Look for active marine life on coral heads, like the Hawaiian state fish Humuhumunukunukuapua'a (aka triggerfish).
Waimanalo Beach
At around three miles long, Waimanalo Beach is the longest uninterrupted beach on the island – making it the perfect destination for a beach stroll along O'ahu's windward coast. Much of Waimanalo Beach is backed by towering ironwood trees, which provide plenty of shade.
Lanikai Beach
Located in the community of Lanikai in Kailua on O'ahu's windward side, Lanikai Beach has consistently been ranked as one of the best beaches in the world! Soft white sand, turquoise waters, and picturesque offshore islands form a stunning backdrop for the half-mile long beach. Lanikai Beach's underwater topography gets far more interesting. Enter the beach via Mokulua Drive and look for patch reef areas from the beach. Grab a pair of goggles and explore beneath the surface close to shore for a chance to see colorful corals and small tropical fish like butterflyfish, parrotfish, and wrasse.
Kailua Beach
Just 12 miles from Waikiki and approximately two miles north of Lanikai Beach, Kailua Beach is consistently rated as one of the most beautiful beaches on O'ahu. It has a 2.5-mile stretch of gorgeous white sand and gentle rolling waves that are formed by the natural rock sea wall called Flat Island (Popoiʻa Island).
'Ehukai Beach Park
Surfers flock to this North Shore beach – also known as the "Banzai Pipeline Beach" – in wintertime for its massive waves. It's home to annual, big-name surfing competitions, such as the Vans Triple Crown. Visit during the winter months to watch surfers take on big swells! A word of caution – waves remain very strong even in the summer.
Waimea Bay
Waimea Bay has to be the most popular beach on the North Shore. Food trucks line Kamehameha Highway near the beach, so grab some beach eats and sit and watch the surfers. The surf picks up in the winter, but gentle swells during the summer months make this a great place for swimming and snorkeling.
Elevate your beach day with sweet accessories and gear to enjoy your time in the sand with Beach Candy Waikiki. Guests of the Twin Fin Hotel earn daily Beach Candy Credits to be redeemed for a wide selection of rentals including surfboards, paddle boards, beach accessories, and more. 
The Twin Fin Hotel is located steps away from Kuhio Beach in Waikiki. In addition to a host of amenities, we offer free use of a GoPro Camera to take on your water adventure, subject to availability. Read more about the amazing amenities and exclusive offers only available on our website and start booking your travel plans with us in Waikiki.