When an individual thinks of the Hawaiian culture, one of the first things that comes to mind is the Hula, the indigenous dance art form of the Hawaiian people. Ironically enough, the Hula is an often misunderstood aspect of Hawaiian culture. For example, did you know that coconut bras and cellophane skirts are a modern invention? Or that in the 1820s, Queen Ka`ahumanu released an edict banning the Hula due to its religious connections to the worship of the old gods of Hawaiian culture?
Let's delve into the rich history of Hula, its significance to Hawaiian culture, and the best places to see Hula during your stay in Oahu.
Roots
Because Hawaii had no written language, Hula served as way to document history, lifestyle, particular events, and to honor royalty. Hula chants, or "mele Hula," as referred to by Hula practitioners, convey various themes, stories of creation, mythology and royalty. Each movement of Hula has a significant meaning. Dancers underwent rigorous training to dance Hula in order avoid minor mistakes, as errors were considered an offense and displayed a lack of knowledge of the particular mele Hula being danced.
Ancient Hula, or "Hula kahiko," utilized chants and traditional Hawaiian implements made of native gourds, coconuts, bamboo stamping tubes, and others as an accompaniment to the dancer. Hula influenced by Western culture is called "Hula auana," or modern Hula, which uses stringed instruments such as the ukulele, upright bass, and guitar.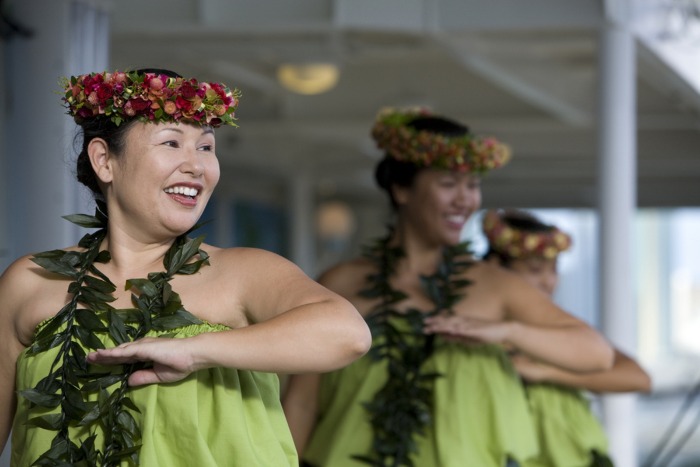 Significance
Hula is important to Hawaiian culture for many reasons, such as its preservation stories, which were passed down orally and visually for generations. It's also extremely significant because the Hawaiian language was banned in the late 1800s, which caused a major decline of native speakers and other cultural art forms of the Hawaiian lifestyle. Hawaiians could not speak their native language in public, and its use fell to low numbers. Hula, however, carried the language to other generations. Movements and gestures associated with the words of the mele Hula acted as a bridge for Hawaiian cultural practitioners who had never learned the language. Fortunately in the 1970s, the Hawaiian Renaissance instilled a new sense of pride and interest in the Hula. Today it's an important, beautiful expression that connects people to the past, to their place, and to Hawaiian culture.
See Hula in Oahu
Kuhio Beach
Sunset Hula and torch-lighting shows are free to the public at Kuhio Beach on Tuesdays, Thursdays and Saturdays from 6:30 to 7:30pm (6-7pm November-January). The Hula mound is toward the west end of the beach on Kalakaua Avenue and Uluniu Avenue. Bring a blanket or chair and arrive ahead of time for the best seat.
Ala Moana Center
See as many Hula shows as you can while in Oahu to get a glimpse of the wide variety of styles and dance! The shopping center is another place to catch a Hula show and live music, performed daily at its center stage. See scheduled showtimes to coincide your shopping excursion with live entertainment.
This cultural center has a broad range of dance entertainment, from Polynesian fire dancing to Hawaiian Hula. If you already have this slated for your trip you're destined to see a wide array of dance styles in a natural setting.
—
Planning a trip to Waikiki? Check out special rates at The Twin Fin Hotel.