Knowing and understanding Hawai'i's cherished customs and traditions allows one to have a deeper understanding of not only what is important to the people who call the islands home, but also how they relax and have fun. Throughout the year, Hawai'i celebrates an array of festivals, events, and gatherings that have stood the test of time. Explore the true essence of where the island's rich culture lies with these uniquely Hawaiian traditions.
Although we strive to provide the most current information, due to COVID-19, events and attractions mentioned may be closed or cancelled without notice. We recommend checking City and County of Honolulu or State of Hawai'i mandates and individual websites for operating hours, updates, and social distancing measures before visiting. Please travel responsibly and follow mask requirements and social distancing procedures.
A kiss on the cheek
Stemming from the Hawaiian honi ihu, or the touching of noses, a kiss on the cheek is the traditional way to greet friends, family, or new acquaintances while in Hawai'i. Although the closeness may be an invasion of space for some, like honi ihu, locals believe that the exchange of "breath" is the sharing of an important life force.
Lei-giving
Made of fresh fragrant flowers, leaves, feathers, shells, or seeds, the lei once represented wealth, royalty, and rank. Today, the lei celebrates the 'aloha spirit' and is a symbol of friendship, honor, love, welcome, or farewell. Worn for almost every occasion, the tradition of lei-giving carries on at special occasions like graduations, anniversaries, parties, dances, and weddings.
Lei Day
Recognized since May 1, 1928, Hawai'i salutes the act of giving and receiving the lei with festivities like parades, music, and other activities during the annual Lei Day (or May Day). Events take place just a short walk from The Twin Fin Hotel at nearby Kapiolani Park, located at 3840 Paki Ave., Honolulu. The annual event includes a lei contest exhibit, hula performances, demonstrations, food vendors, and more.
Kamehameha Day
The public holiday is celebrated every June 11 as a way to honor King Kamehameha the Great, the monarch who established the Kingdom of Hawai'i nearly 225 years ago. Traditions include a grand parade and draping the Kamehameha statue in front of Aliʻiolani Hale and ʻIolani Palace on King Street in downtown Honolulu with lei. The Annual King Kamehameha Celebration Floral Parade has been a staple in Waikiki for over 100 years.
Sashimi on New Year's Eve
Eating sashimi on December 31 is a popular tradition in Hawai'i that is believed to ensure prosperity for the coming year.
Traditional Hawaiian Food
Taste the true Hawai'i with traditional dishes like poke, poi (a starchy Polynesian food paste made from taro root), Kalua pig (pig roasted in an underground oven), lomi-lomi salmon (a cold dish of salted, shredded salmon mixed with tomatoes, sweet Maui onions, and scallions), and haupia (a dessert referred to as "coconut pudding"), and fresh fruit like pineapple, bananas, and lilikoi.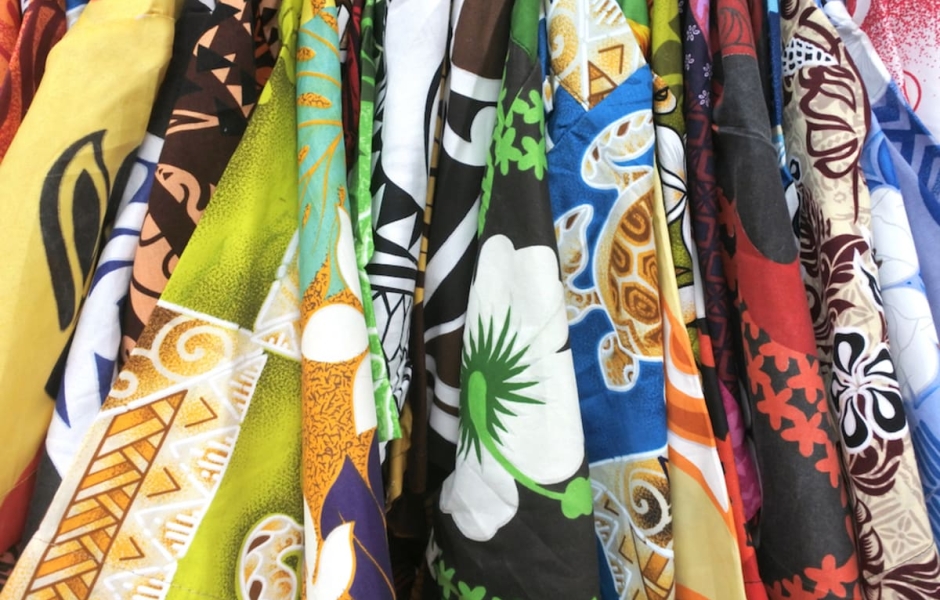 Aloha Wear
Represent Hawai'i in true fashion by dressing the part. Traditional Aloha wear includes garments like colorful floral or tropical patterned shirts, loose-fitting dresses or muʻumuʻu, and lei. Looking for love? In Hawaiian culture, women wearing a flower tucked behind their left ear signifies they are available, with the opposite telling others they are taken.
Hawaiian Luau
The celebratory tradition featuring music, entertainment, dancing, games, and a spread of Polynesian fare has been a Hawaiian staple for centuries.
Intrigued by the food, culture, and sites of O'ahu? There's only one way to experience it, and that's in person. The Twin Fin Hotel is your best pick in Waikiki. It's located right across the street from Kuhio Beach and central to everything in Waikiki. Check out exclusive offers only available on our website. We hope to see you soon!